Top Places to See in Madinah
Al Madinah is located to the east of Al Hejaz mountains, which is part of Al Sarawat mountains. Al Sarawat Mountains run for 2000 km from Yemen to Jordan. It is in a volcanic area, which was proven to lay out massive fields of lava. They are Harrat Khaybar on the north and Harrat Rahat on the south.
The mountain chain surrounding the city has always been of historical and religious connotations. Pilgrims' Mountain is on the West, Salaa is on the northwest, Caravan Mountain is on the south, and Uhud is on the north. Al Madinah is situated on a flat mountain plateau at the junction of the three valleys of Al Aql, Al Aqiq, and Al Himdh. These three valleys provide water to large green areas amidst a dry mountainous region.Ready to make your trip to "The Enlightened City", a memorable one? Map out your itinerary with our guide to the top attractions and places to see in Madinah.
Al Masjid Al Nabawi (Prophet's Mosque)
Masjid Quba
Mount Uhud
Jannatul Baqi
Masjid Al Qiblatayn
Masjid Al Ghamama
Dar Al-Madinah Museum
Hejaz Railway Museum
Al Noor Mall
Battle of Khandaq site
Battle of Badr site
Yanbu beach
Check out these attractions for more details.
Our beloved Prophet's Mosque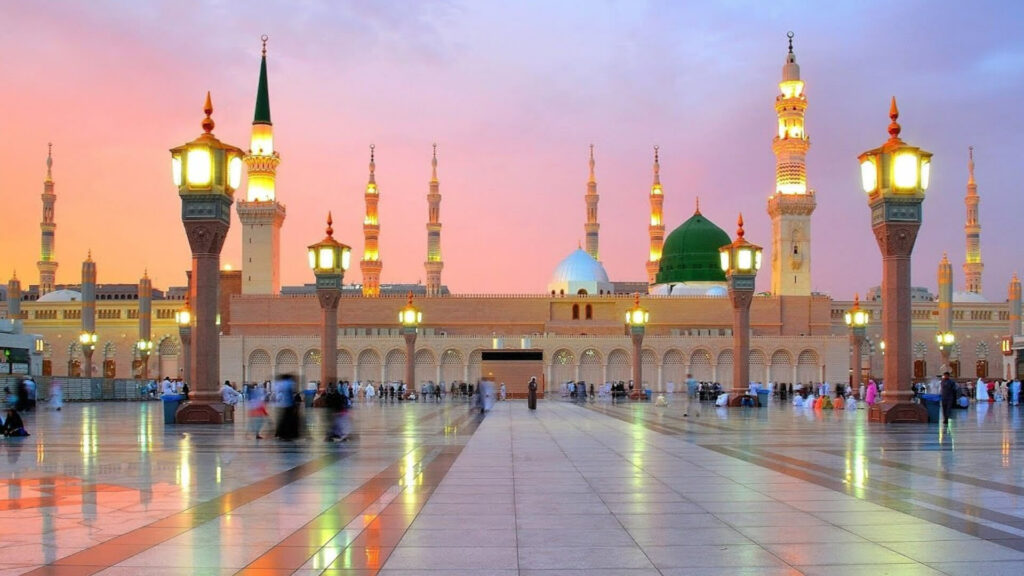 Al Masjid Al Nabawi is the most sacred place in the whole city. This stunning 10-minaret masjid is also called "The Prophet's Mosque" because it was built by order of the Prophet (Peace be upon him) after he migrated from Makkah and lived and taught there for quite some time, serving as the base of operations and as the cradle of Islam.
This Masjid can accommodate 1 million visitors and can be visited at any time of the day or night. Aside from being a place for prayers, it also houses many other holy sites such as the Prophet's tomb located under the mosque's green-colored dome, Rawdah ash Sharifah, or the Noble Garden, and the Minbar where the Prophet (PBUH) gave his sermons.
The Masjid is brimming with intricate architecture on the walls, gates, and ceilings which you can explore around. Be sure to catch the convertible umbrellas' opening and closing during dusk and dawn in the Prophet's courtyard for a wholesome experience.